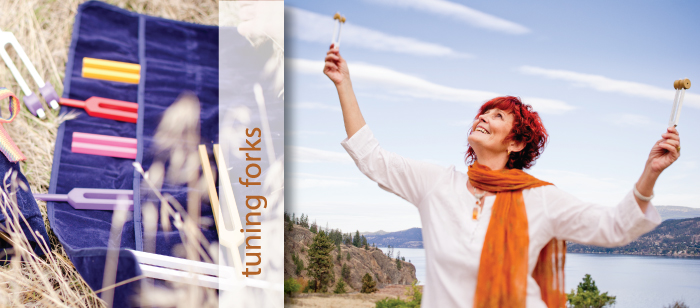 Two Day (14 hrs)
Workshop Fee: $350
Prerequisite: None
Tuning fork therapy is based on the principles of sound healing and the knowledge of acupressure points and the chakras.  When tuning forks are placed on specific acupressure points they access the innate wisdom of the complete being (body, mind & soul) to create opportunities for perfect health and balance for that individual's development.
In this 2 day workshop students will be introduced to the theory of sound healing and the infinite healing powers of the extraordinary vessels. Students will learn to give and receive a sound healing session using tuning forks.
Students require 2 Ohm tuning forks or 2 forks in the key of C.
Tuning forks can be ordered through Brenda at [email protected]
Studio Chi reserves the right to cancel programs and workshops with a minimum registration of 5 students.
Good morning Brenda:) I can't thank you enough for your beautiful teaching style. I'd fill out the evaluation form but you get 5 stars all the way through your passion for the forks and of life, and your encouragement of us adding our own flare to the cookie recipe are way up there on my list of awesomenessI haven't been this driven to learn in a while, it's so exciting!! I have tuning forks on the brain. Thank you thank you thank you! I will be back for more when the time is right. Have a beautiful weekend I leave you with the rainbow I captured Monday morning before the workshop.